Dekmantel is the gift that keeps on giving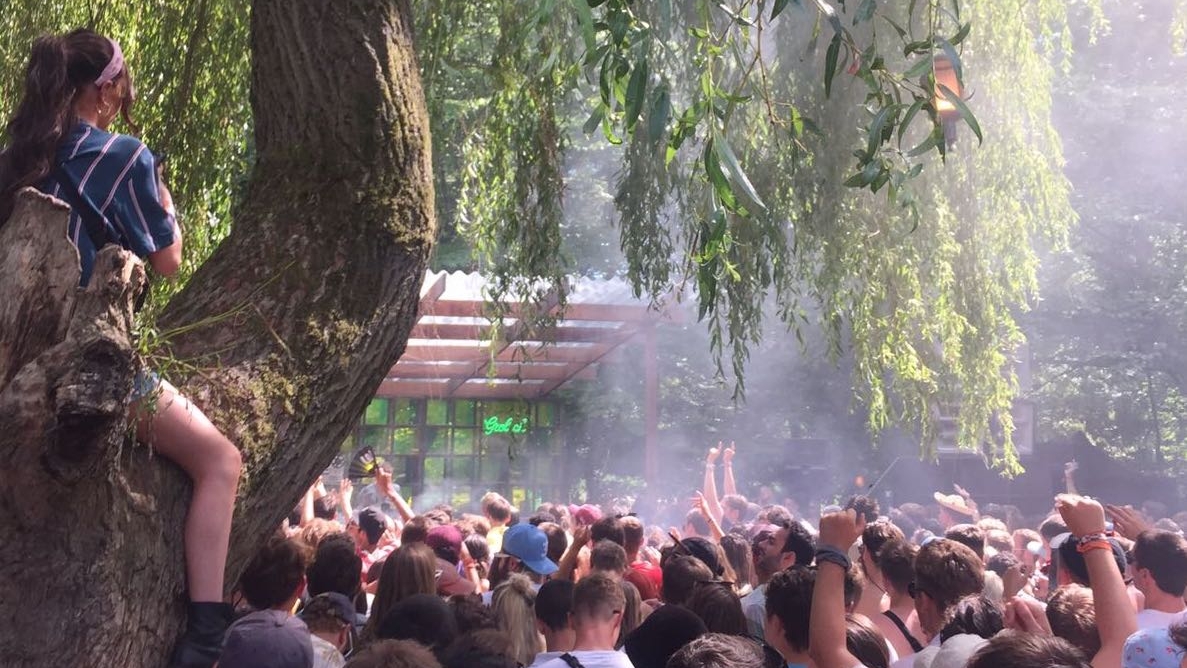 It's 1pm on Friday 3rd August and Rodhad, the Dystopian boss, is already in a hypnotic groove. It's hot — so hot, in fact, that bottles of ice cold water are the first of the weekend's many gifts for those still in the queue. We're in a woodland wonderland bathing in sunshine, yet the Berghain regular is inside a dark tent named UFO 1. To many, this might be the definition of madness. But it's the first weekend of August, we're in the Amsterdam Bos and it's the 2018 edition of Dekmantel's summer festival.
Outside, and on the iconic mainstage, Or:la, or Orlagh Dooley, was telling her own story that began in Derry, developed across the UK and was now rightfully being expressed in northern Holland. Taking over, Dekmantel favourite Shanti Celeste unsurprisingly found time to exhibit her faultless taste in house music, with tracks such as Nail's 'Optimus' locking our feet and shoulders into a rhythm, and E.B.E's 'Quiet Storm' cementing smiles to our faces. As Ricardo Villalobos arrived, as usual, seemingly in his own world, it was time to inhabit our own under the weeping willow tree of the selectors stage.
Here, Daniele Baldelli, the cosmic disco veteran, was taking the crowd to another dimension. As the sun's rays pierced the forest, the Italian displayed the skills he's honed over 50 years and shared the exceptional record collection he's amassed along the way. Journeying through his home of cosmic, Italo and funk, we were all transported to a soulful outer world of dance music. From here, it was only a short wander to the magical greenhouse to finish day one, where Palms Trax was in party mode. With characteristic tracks like Fun Fun's 'Baila Bolero' and the nice 7 remix of Romanthony's 'Too Long' ringing through the shrubbery, the Bristolian had the place properly overheating. When he took us on Peggy Gou's acid journey through Shakedown's classic 'At Night', he had us all dusting off our vocal chords: no one inside could deny that some days just do seem right.
The festival had begun on Wednesday, with live concerts from both Tangerine Dream and Four Tet at Amsterdam's Muziekgebouw. By Saturday morning this rare treat was already only a memory. We were now ready for the Boiler Room, where local favourite and De School resident Carista was busy uniting all in her presence with a crate full of party vibes. As Dam-Funk and Norwegian Skatebard saw the sun come down all the commotion had, to borrow the lyrical talents of Mike Skinner, simply become floating emotions, and it seemed impossible that already there was only one day left.
A Sunday is a Sunday: it should always start slowly. In the greenhouse, south London sound system legend Jah Shaka understood this, and was busy distributing his five decades worth of experience in spiritual dub. Elsewhere, Jamie xx was enjoying a long stint in control of the selectors, refusing to adhere to Sunday protocol with tracks such as Wildchild's 'Jump to my beat' forcing the crowd to oblige. The evening decision as to where to end proceedings was so difficult it felt cruel. Ultimately, one artist won out — Hamburg native Helena Hauff took on the much-deserved responsibility of closing the mainstage.
This denouement to the festival reflected one of Dekmantel's key attributes: unrelenting support for the eclectic talent it champions. Allied to this, of course, are precision and passion, as well as an openness to new ideas and stimulating concepts. The 2018 festival felt slightly different: there were notable emissions of recent stalwarts (chief amongst them Hunee and Motor City Drum Ensemble) and a new, second UFO tent. But in this lies the secret of Dekmantel's success. Like all successful species, it adapts to its surroundings and is constantly challenging both itself and its artists, forcing each other to grow as a result. If only one of its many branches, the flagship summer festival is the most obvious manifestation that Dekmantel is a beast we are all lucky to be watching evolve.
What did you think of Dekmantel this year? Let us know in the comments section below!