Get To Know: Frisky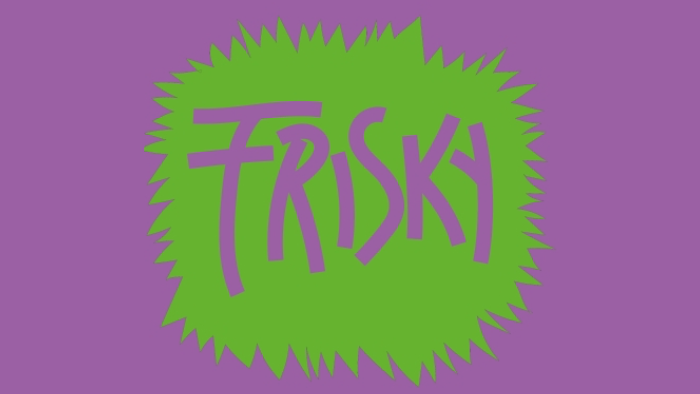 Back in December, as per this review, I had the Best Time Ever watching Girl World. Created by Frisky, it's a raucous irreverent piece set in a world inhabited only by best friends Tilly and Inga. They have no contact with the outside world, and spend as much time worshipping their goddess Fatnaboona and they do sharpening their dick chopper-offers. They're safe and happy in Girl World, until they find a hole in the fabric of their universe, and while Inga's eager to find out what's on the other side, Tilly wants to stay safe in the world she knows. It's a brilliant, bright exploration of girlhood friendship and teenage sexual awakening and I loved every second of it.
Praise be to Fatnaboona, for Girl World is back. From the 8th-10th June, Frisky Fest is taking over Platform with performances on the 8th and 9th and a day of free workshops on the 10th. Keen to find out more about Frisky and how in the hell a piece like Girl World came to be, we got on the phone with Frisky co-founder Camille Dawson and had an excellent chat...
Hi Camille. Okay so, why did you set up Frisky in the first place?
Hi! I started Frisky with Lucy Mann and Ailsa McKay when we graduated from Bristol. They've both been so inspiring to work with and have been creating performances and running the Bristol base of Frisky. We really wanted to make a company that was inter-disciplinary. I came from a musical background and started to get more into design and theatre, but I didn't want to pigeonhole myself into doing just one. It dawned on us that theatre can actually be a space in which you can do anything you want - music fashion theatre dance can all exist at the same time.
You've really taken that to an extreme with Girl World!
Exactly! With Girl World we wanted to make something that finds the joy in being totally interdisciplinary while also celebrating the absurd and the freaky and the funny.
Did you have Girl World in mind when you set up Frisky?
We set up Frisky first. Girl World actually sort of snuck up on us as a piece. I was in New York having just founded Frisky, and I was so inspired by this piece called Ghost Rings by Tina Satter I started writing it in MoMA. I always thought that Frisky might veer more into dance theatre, but suddenly I had this huge urge to make this scripted musical piece.
As you do. And am I right in thinking you wrote it in part with your dad?
Yeah! I started the idea on my own and came up with the bare bones of it, and then I came back with the idea for him. He's a scriptwriter for cartoons, which kind of reflects in the piece I think…
It really does!
[laughs] I'd always done a lot of divised work before and had never actually sat down and written a script. He taught me how to create a plot out of the concepts I'd come up with. It was a really nice collaboration because we brought such different things. Then we brought in my brother to do the music, so it became a bit of a Von Trapp thing.
That makes a lot of sense to me now. When I saw the piece back in December I had so many theories of what Girl World actually is — at one point I had a theory that you were eggs in a fallopian tube…
We definitely had that in mind when we wrote it, but we didn't want to be too explicit one way or the other. One of the pieces we used as reference was Waiting For Godot, because is so unclear where did these two people come from. They have some sort of relationship with the real world, but at the same time the world they're in seems to exist on its own. In Girl World Tilly and Inga do get birthed through the hole — that's one thing that's for sure.
I fell totally in love with Inga and with the actor who plays her, Serena Ramsey. How did you find her?
We found her through the Facebook group Bossy. We wrote a post and she responded! For me whoever played Inga had to be physically funny, and Serena brought fire to the audition.
It's been so interesting to watch her take the role to places I didn't even imagine when I wrote it. To be honest that's been one of the best things about the process — handing over the baton to someone else and seeing them run with it. Serena's become such a rock and a best friend through making Girl World.
How much of the really surreal stuff in Girl World was based on real childhood play, and how much was you putting yourself back into that imaginary world and seeing what you could come up with?
Well, Fatnaboona [the goddess of Girl World] is completely real. When my friend Una, my brother and I were kids we made a religion called Fanna Banna and the goddess is Fatnaboona. We wrote scriptures and worshipped her. It was always in the realm of a joke, but we were totally obsessed with our made-up religion. At first I was really worried that it would be too personal, but after the first shows people would come up to us and say how much they related to these little made up worlds.
It definitely did that for me - I remembered that my friend Bethan and I had a fully fledged language with a dictionary we'd made!
Exactly! One of the biggest realisations on our journey came through asking 'why did we relegate these games to insignificant things we did as kids?' because looking back it's clear that we were trying to learn about the adult world through play. That journey was so important.
I was thinking about how we so rarely give ourselves the chance to just let go as adults — in many ways you've created a space for you to learn through imagination again. Does it feel like that to you?
I've realised that as adults we don't have to only indulge in silliness and fun when we're drunk. The play has been a good way to go back to that place — it's ultimate imagination world.
Do you feel like you've been able to work through some of that childhood to adulthood baggage yourself in making Girl World?
I guess things always come at interesting times. When I wrote Girl World I had just left uni and was learning how to be a grown-up. Then I had a massive break up of a five-year relationship. I'd gone to New York and had literally fallen on my face — I had black eyes and a black nose and was sat in MoMA feeling awful. The play in a way connects with that. I was asking myself what does it all mean, how have I got to where I am now. So in a sense I did accidentally work through quite a lot. I didn't notice that at the time, it was only afterwards. I think that often happens in art — you look back and realise what was going on.
And so now you're doing Frisky Fest at Platform! How much has Girl World changed since I saw you perform it back in December?
We're always developing it! At the core of it it's the same but we have some new songs, we've introduced a drum machine, and we've got new costumes! We're just trying to expand the show and make it as convincing of a world as possible. Sound and aesthetics has been the main thing for us, and we've also brought in a new director, Rebecca Hill, who's been amazing - she's brought a new perspective, asked us probing questions about the relationship between Girl World and the real world. Now we feel even clearer on who these characters are — soon it'll be ready for Edinburgh!
Thanks Camille!
Head over to Platform Southwark on the 7th and 8th June to see Girl World, with support acts Bang Average, Wonderbox, and Stokes & Summers. Grab tickets here.
Plus, don't miss a day of free workshops on the 10th June (more info to come on the Frisky Facebook).
If you can't make the Platform dates but are heading to Edinburgh this summer, they'll be doing a full run at The Space - Studio Triplex at 21.45. Grab tickets here.